Our History
In 1986, a continuation high school teacher, Harry Shabazian, in East Los Angeles finished the first LA Marathon and felt personally transformed by the experience.  He then challenged his students, who were in trouble or headed for it, to train with him for the next LA Marathon and change their lives as well.  These young people, labeled misfits and under-achievers, not only finished the LA Marathon the following year, but also finished high school and went to college and jobs.
Then in 1988, two other continuation high school teachers, Eric Spears and Paul Trapani, joined Harry, and the three teachers ran with their students.  In 1989, Roberta Weintraub, a member of the Los Angeles Board of Education, saw what the teachers were doing as an effective and innovative dropout after-school program for Los Angeles Unified School District students.  She and her deputy, Marsha Charney, established the program in LAUSD.
That was a turning point for SRLA.  On March 4, 1990, two dozen teachers from around the city joined the three co-founders, with students from their respective schools, and together, they all ran in the 5th LA Marathon.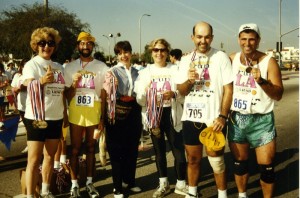 In 1993, SRLA spun off from LAUSD and became an independent 501(c)(3) organization.  Today, that one teacher and his handful of students have grown to 450 teachers and 3000 students from 180 schools and community programs throughout Los Angeles. SRLA has successfully carried out the same teacher-led training program, to challenge at-risk secondary students to experience the benefits of goal-setting, character development, adult mentoring and improved health by providing them with a truly life-changing experience:  The training for and completion of the LA Marathon.
Since 1989, more than 54,000 students have been served by SRLA.  The growth of the program has only increased its success.  Each year:
More than 95% of the students who start the marathon, finish the full 26.2 mile course
More than 95% of the seniors who run the marathon graduate from high school
More than 90% of SRLA graduating seniors have plans to attend college
In March 2014, there were 3,360 SRLA runners at the ASICS LA Marathon and 99% of them finished.  In June 2013, 99% of the 693 seniors who completed the LA Marathon with SRLA graduated from high school.
We know students who participate in SRLA:
Enjoy school and learning
Think school is not a waste of time
Are sure they will succeed when they set a goal
Are able to deal with their problems
Make better plans for after high school
25 years of Students Run LA:
1,920,000 miles covered by SRLA participants during 2013-14 alone
186,000 hours collectively given by the volunteer teacher/leaders annually
104,000 pairs of running shoes
72,000 training shirts
54,000 students
6,500 volunteer teacher/leaders
1,640 scholarships awarded
1 goal – completing the ASICS LA Marathon.